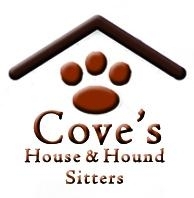 If you have dogs, cats, birds, chickens, etc., bringing them to a boarding facility is not always possible. Cove's House and Hound Sitters provides a unique opportunity to have a person with years of experience visit your home and take care of your loved ones when you can't be there yourself.
"We have a few different pets so boarding isn't an option. House and Hound Sitters didn't force us to pick from a list of canned options. They made their options fit our needs and delivered.
Truly a wonderful service."
-Ed
Call us at (415) 290-3652 to learn more.